iPod Cozy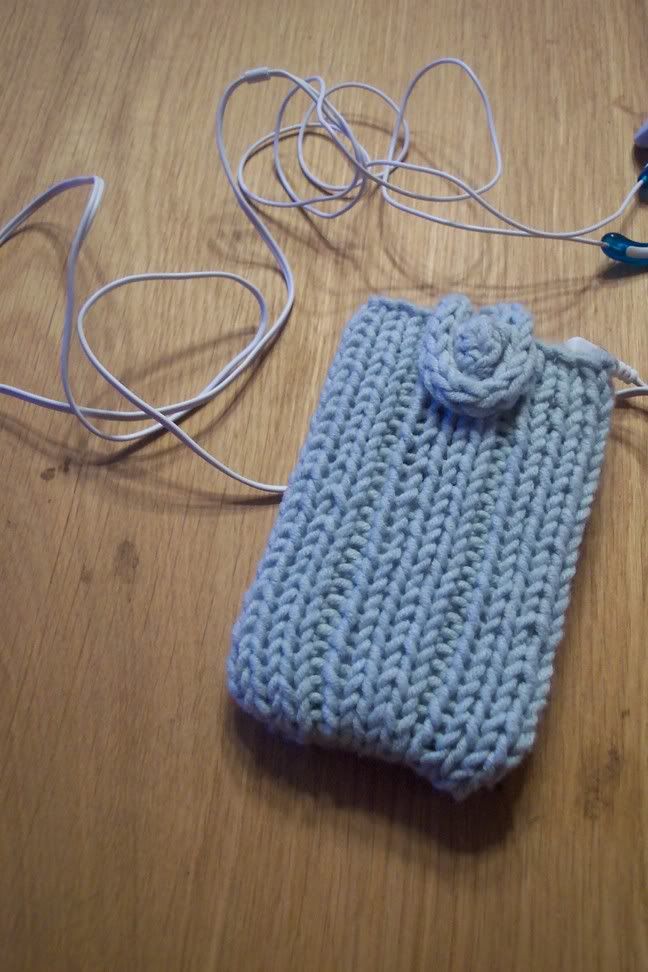 You wouldn't want your baby to get cold. Or scratched. So delve into your stash and make a cover for your iPod (or other MP3 player).
Yarn and Needles: You want to use something that will give you a gauge of about 17-18 sts per 4 in, and an appropriate sized needles for that yarn. I used Rowan All Seasons Cotton and size 7 needles. My sister made one with Debbie Bliss Alpaca Silk and size 7 needles. You will need a very little bit of yarn -- I'd say less than a quarter of a ball. This is a perfect project for that little bit of nice yarn that's been sitting around.
Size: This pattern will fit the regular iPod, both the older chunky ones, and the new slim ones. (Yay for the stretchiness of ribbing.) The finished dimensions are 2.25 in wide by 4.75 in high, unstretched.
3x1 Rib Pattern stitch:
Row 1 (WS): *P 3, K 1, rep from * across.
Row 2 (RS): *K 3, P 1, rep from * across.
CO 24 sts. Work in 3x1 rib until you have knit the height of your player, about 4.75 inches. BO in patt. Fold work in half and seam along bottom and long side. You can leave a hole in the seam at the bottom for the dock connector, if you like.
Closures: You can be creative. You could sew a button on the front and thread some extra yarn through the back to wrap around it, like a manila folder. You could knit a little more and do a traditional button and buttonhole. I made about 4 in of i-cord and attached it to the back as a loop. Then I made an "afterthought bobble," which I unvented but undoubtedly many other people have already thought up.
Afterthought Bobble: With the same size (or close) dpn as you used to knit the cozy, pick up one st about 1 in below the top of the cozy. K this st. Slide it to the other end of the dpn, and k into the front, back, and front of this st -- 3 sts. Slide the sts to the other end and k these sts. Slide them back to the other end and K3tog -- 1 st. Slide st to other end of dpn and K this st. Cut yarn and draw through this st. With yarn needle, pull tail through to wrong side and secure bobble.
A final thought: You can use swatches for larger projects to cover your iPod. Aim to make your swatch about as tall and about twice as wide as your iPod, and after you are finished with your measuring, etc. you can seam it up and slip in your MP3 player. Sweet.