Believe the Hype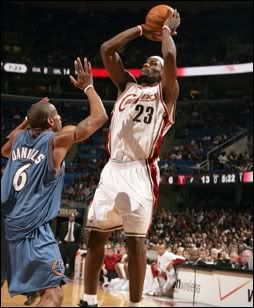 Here's how dedicated I am to finishing things. I worked on Fair Isle while "watching" the Cavs game. Everything you may have heard about LeBron James is true -- he's astounding. His abilities on the court are superhuman. It was not as fun to watch all his basketball pyrotechnics as replays. While I may someday be able to do color knitting with two hands, I doubt I could do it without my eyes. (Sorry for the lousy picture quality, but I couldn't resist.)
I wish the title of this post were also referring to two-handed Fair Isle technique, but alas, no. I was so impatient to finish
this hat
, I just did it one-handed. Thanks for all your great tips, though! I plan to take a look at those tutorials and put them to use sometime soon for the Norwegian Stockings.
So, I finished something and promptly got all excited about starting something new. Right now, my WIPs are down to two sweaters. I thought,
Portable knitting! I need portable knitting! I can start socks!
Then I remembered that I have just barely started
Kepler
, and the first step are the highly portable cable bands. Sigh.
So I've been working on that today, and actually I'm really enjoying it. Cabling without a cable needle is always a thrill, and it's been so long since I picked it up it feels like a new project. I'm thinking about skipping the cable bands for the sleeves, though. Plain sleeves would be less fussy. And, of course, I could finish the sweater faster. Then (to answer your question Glaistig), I could cast on for Forbes Forest! Or Backyard Leaves!