Stop the Insanity!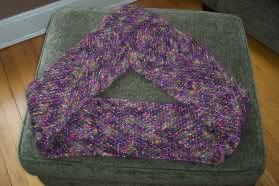 Because we all know that I am (1) susceptible to knitblogger peer pressure and (2) quite possibly certifiably insane, I decided on MONDAY to do a little Christmas gift knitting. Yep, she's lost it, folks.
But I do have one gift finished! Yay! Here are all the details:
Pattern
: Snowy Triangle Scarf from
Handknit Holidays
Designer
: Iris Schreier
Yarn
: Trendsetter Dune, color # 108 (41% mohair, 12% viscose, 6% metal, 30% acrylic, 11% processed cheese food -- just kidding, that last 11% is nylon). I used about 2.5 balls, or about 225 yds.
Needles
: Size 11 Addi Turbos
Modifications
: I followed the pattern, except that I knit five center triangles rather than eight. My scarf ended up being 8.5 inches wide and 60 inches long -- significantly bigger than the original, which is 4 by 48 inches. That's fine with me -- I wanted a longer and wider scarf.
Other thoughts
: This usually isn't my kind of yarn, being mohair and sparkly. But it was perfect for this pattern and the scarf turned out to be very pretty. It was fairly expensive, putting my ghetto knitter status in serious peril. If you were thinking of using this yarn for a more complicated project, you should know that between the mohair and metal content, frogging it would be like unravelling a Brillo pad, but not as much fun. The pattern is cleverly constructed, is a quick knit, and lots of fun. I was afraid it would involve picking up stitches, but it's made in one piece. Now I want to check out
Schreier's book
. Anyone have an opinion on it?
I purchased the yarn at one of my LYS's -- the one I call (to myself) "Casa Del Eyelash," because it often seems that's all they have. I have received mediocre to poor service there, and generally only frequent the shop in "emergencies." But yesterday one of the owners was so super sweet to Sam while I was looking for what I needed that I actually got a little misty. So here's a little shout out to The Knitting Room in Woodmere, Ohio.