That Holiday Feeling
There are days I feel I'm going slowly insane. And, then, there are days when the process doesn't seem to be taking long at all. I've had several of those days in a row. So I'm trying to get into the Holiday Spirit. Here's what I am doing:

1. I am listening to this CD. I just love La Krall. She does beautiful versions of my two favorite seasonal songs: "Have Yourself a Merry Little Christmas" and "What Are You Doing New Year's Eve?"
2. I am drinking a yummy concoction of cranberry juice and Diet Canada Dry ginger ale. Must be Canada Dry--Vernors is too cloyingly sweet. Yuck.
3. Tomorrow my mom is coming up to help me put up my Christmas tree. Yay!
4. Sometime very soon, I am going to keep my own personal Holiday Tradition. Every year at Christmastime, I watch three movies, by myself:
Going My Way
,
Holiday Inn
, and
The Bishop's Wife
. I watched them as a single gal just out of college, living in my dumpy efficiency apartment in Rosslyn, Virginia. I watched them as a law student in Charlottesville. I watched them as a new mother. And I will watch them again this year, and they will undoubtedly again bring tears to my eyes -- we all know I'm a rank sentimentalist -- and a smile to my face.
5. I am knitting these little treats from Handknit Holidays.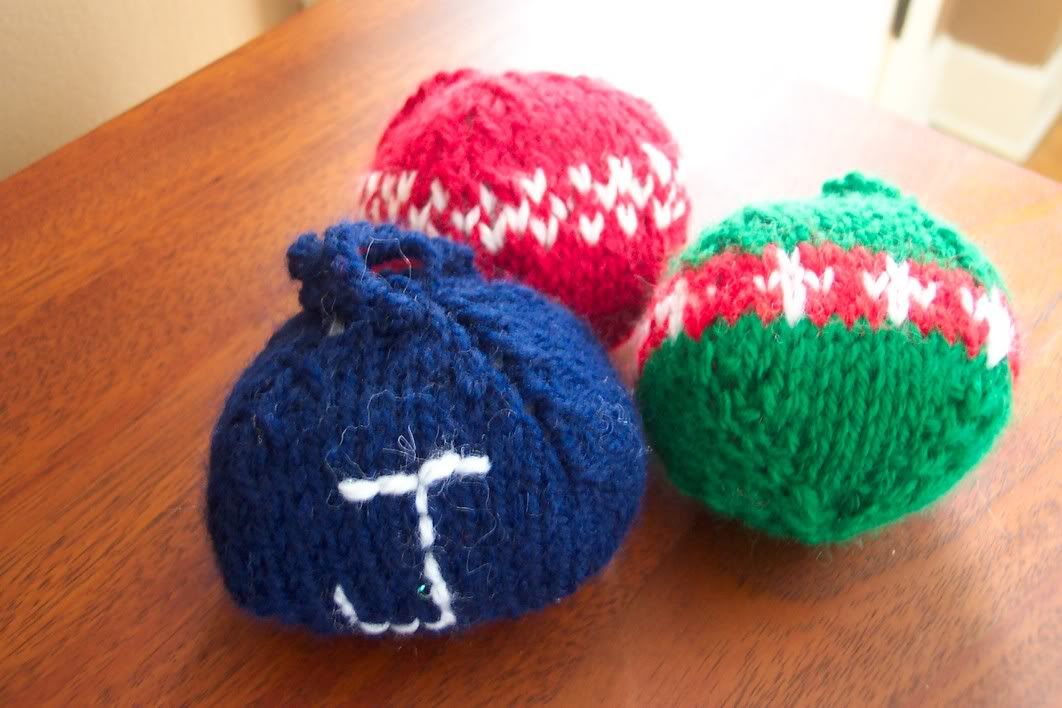 The "J" is for my nephew and godson Jack. I've got two sons, four nieces, and two nephews, so I've got a few more to go! Luckily, they are the knitting equivalent of popcorn--very quick to knit. I'd be done with all of them, if I could sit down for more than three consecutive minutes.
They're knit in Plymouth Encore and Wool-Ease, naturally. I did make one change to the pattern. After I knit my second one, I wondered why all the decreases leaned the same direction. So on the next one, I did matching right- and left-leaning decreases. See what happens when you read
Grumperina
regularly? You start thinking about these kinds of things.
A couple of asides: Deety has written a very good, very thoughtful
review of Vogue Knitting's Stitchionary, Vol. 1
. If you are interested in this book, you should definitely check it out! For the record, I would like to point out that in my previous post, I was casting no aspersions on crocheters, but rather only alluding to the fact that many knitters have nothing but disdain for them. You know it's true. Also, WittyKnits mentioned that perhaps we throwers need a t-shirt. Hmmm...