The Problem with Project Polygamy
...is that it makes blogging difficult. When you've made just a little progress on three different projects, that doesn't make for very exciting photographs or pictures.
So, instead, why not some thoughts on recent issues of knitting magazines?
Last year, I joined
Rowan International
and was excited to receive the member gift, which was two balls of
KidSilk Haze
. After several months, I now have
a plan for it
. But I haven't been as thrilled with the actual magazines and the latest issue was really a letdown. There wasn't much in there that I would want to knit or wear. (I guess the cover should have tipped me off.)
Carolina
is pretty, and might be a nice project to knit, but the photo isn't convincing me that it would wear well.
Jasmine
is nice too, but I've pretty much decided that cotton is not my friend. I am not sure whether I should renew my membership or not.
I did recently order
four back issues (numbers 30, 31, 32, and 34)
for the astoundingly low price of 9.99 British pounds. Even with shipping, that's a great deal. I have received the two autumn/winter issues, and there are some really lovely patterns in those.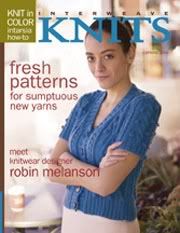 I also recently received my
Spring 2006 Interweave Knits
. I love this magazine. I really enjoy the articles, especially Amy Singer's column and the reviews. I love that they include sock and lace projects. Either the editors really understand what the knitting community wants, or we all want to knit these kinds of things because they are in IK. In any case, it makes browsing the magazine a satisfying knitting fix!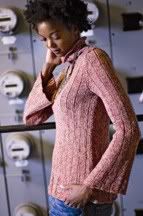 I really like Kate Gilbert's
Sunrise Circle Jacket
. Ingenious construction! I also am thinking about making Ann Budd's Pullover Flair sometime. It looks like a sweater that could easily become a favorite. Plus, I love those wide rib patterns.
Finally, because I cannot resist magazines in general and knitting magazines in particular, I recently bought the latest copy of Knit.1. Most of these projects are too young, edgy, bulky, or froufy for me to actually wear. But, for some reason, I really enjoy this magazine.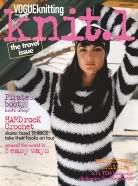 I like the fact that the issues are themed -- this one is the "travel issue." There was a really cute article providing key knitting phrases (such as "Oh dear, I have to rip back. Again.") in ten languages. The German translations were provided by Sockapaloooza momma
Alison
. There were also profiles of knitters from several countries, of varying ages. One of the featured knitters was Anna of
My Fashionable Life
. It was a little thrill to see someone I "know."
There were a few cute patterns too. Mari Lynn Patrick's stewardess minidress is not something that I can wear, without looking very silly. But it would make a great pullover if you knitted a shorter version. And how cute are these socks? I love them!
It is very cold here, and I could actually use those mittens. Back to the knitting here and now!