The Amazing Lace Poetry Challenge
The Shetland Triangle shawl is finished. She's been a fantastic, easygoing, fun, and cooperative teammate. Our knitter was delighted that the current Amazing Lace challenge would allow her to express her appreciation to Shetland in poetic form. Laura looked all over for inspiration. After all, poetry is all around us.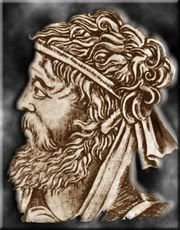 She looked to
Ancient Rome
.
Let us knit, my Lace, and love ...Knit me a thousand stitches, then a hundred, Then another thousand, then a second hundred,Then yet a thousand, then a hundred,Then when we have knit up many thousands,We will confuse our counting, that we may know the value of lifelines...
She considered modern American poetry ...

so much depends upon
nice sharp needles
that aren't too grabby
when knitting up lace
She looked east, to Germany, and the World Cup.
I'm a thrower 'til I die,
I'm a thrower 'til I die,
I'll win the Amazing Lace,
And the pickers will cry!
Not surprisingly, Laura found inspiration on her iPod.
My mother was a Japanese silkworm
In a Blue Sky mill town,
Cocooned in filaments so divine.
And she met my father at a mill near Lima, Peru,
An alpaca who lived in the shadow of the great Macchu Picchu.

And there on the spindle,
By fingers so nimble,
Their fibers were mingled
And spun into sportweight
And sold to a knitblogger who lived in Ohio.
In the end, words really failed to pay adequate tribute to this lace project. Shetland Triangle was a constant delight as a teammate and is now a beautiful FO. The next project to join Team affiknitty in the Amazing Lace has large holes to fill, indeed.