Jumping on the (Conestoga?) Bandwagon
I am not embarrassed to admit that when it comes to knitting projects, I'm a follower. And, in this sweltering heat, I've apparently caught the Dishcloth Cotton Fever that's spreading through KnitBlogLand. I am pretty certain I got it first from
Amy
, but
Dave
definitely had something to do with it, too.
But, today, you get not one but two, two, two bandwagons for the price of one! Can you guess the other? Here's a hint...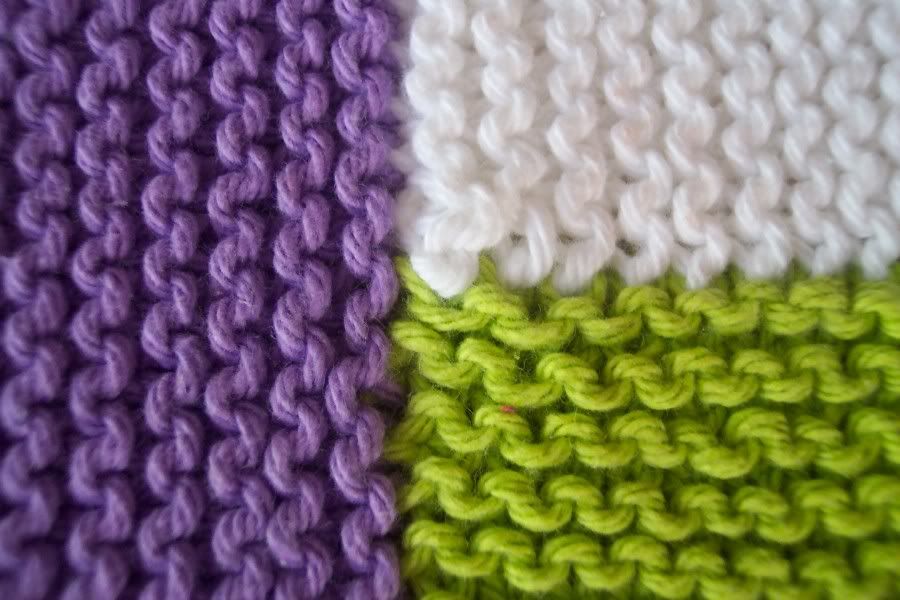 Those Mason-Dixon gals have me log cabin knitting. It is wonderfully mindless, yet not boring. As Cara has written at length, it presents all sorts of creative opportunities within a dictated structure. You may think it is impossible to be truly creative within the strict confines of garter stitch strips. I would remind you of a poetic form which is very highly structured but nevertheless has been the starting point for some of the most gorgeous expressions of language in Western civilization: the sonnet. (And I haven't even mentioned the villanelle.) Kate of A Strikke wrote a very thoughtful post on Mason-Dixon Knitting, which you really should pop over and read, especially if you've been wondering what all the to-do is about.
So far I have finished one (approximately 14 inch) square and I have no set plans for it. I have started another, in the same colors but in a different order. When I get nine or so of these squares, I may sew them together into a baby blanket. We'll see. For now, it's just too damn hot to think while knitting, or hold wool for long. In a perfect world, I'd be sitting with my lime and lilac cotton and my Addi Turbos, in the shade, whilst been served very many gin and tonics. Sadly, not to be.