Status Report
This week, I've mostly been working on Clapotis. (Sorry for the rotten photography, but if I wait for a good day, there may be no pictures until spring.)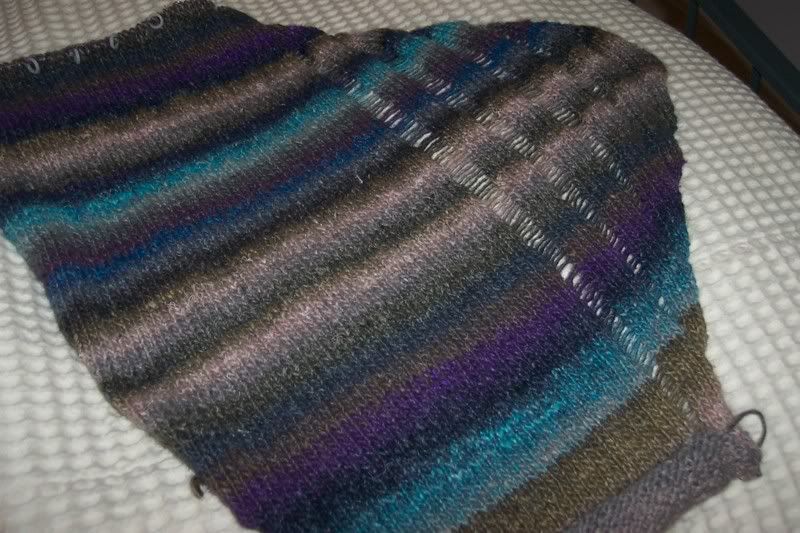 The picture does not show the full size, but rather is folded so you can see the dropped stitches. I am using Noro Silk Garden in color #226.
As others have noted
, this yarn seems to have improved in quality lately. In the past, I have found whole gardens full of vegetable matter in the yarn, as well as many knots. I've used almost three skeins so far and encountered few twigs and only two knots. Oddly, one of these knots was at the very end of a skein; the tied-on yarn measured approximately two and a half inches.
Licorice Whip is currently languishing on Sleeve Island. The body is done, but I am finding it difficult to summon the motivation to finish the thing up. I'll get to it eventually, though, because it's
cold
here.
In an effort to create some good karma, which I could use, I have decided to put aside knitting for myself for now (other than to finish Clapotis and Licorice Whip). Several people in my family are way overdue for a handknitted item. These projects may or may not be holiday gifts. I will probably hand them over as they are finished. First on the list is my mom, who has requested--nay,
demanded
--a pair of socks. I started Karen's Sugar-Free Socks for her in Debbie Bliss Cashmerino Aran. Who knows what's really in this yarn, but it feels like buttah. Yum.
Inspired perhaps by recent episodes of Knitty D and the City, I also cleaned out my stash yesterday. Most of the Yarn of Shame has been sent along to the thrift shop, along with some other things that I was certain I would never, ever knit. Click
here
to see a horrifying before picture, and
here
to see the newly reorganized stash closet. Because I am a big Yarn Dork, I also created a detailed inventory of what I have, typed it up as a table in a Word document, printed it out, stuck it in plastic page protectors, and have it in a binder with patterns I would like to knit in the nearish future. Of course, if I had true dork cred, I'd have done it as a spreadsheet, but I don't know how to use Microsoft Works. Pathetic, I know. Seeing it all written down is oddly comforting, and makes the stash seem somewhat smaller. I suppose some people might find yarn to make 30 pairs of socks a little excessive, but I am not one of those people. If you are reading this, I would hazard a guess that neither are you.