Yarn Crawl!
Yesterday, I went on an all-day yarn crawl extravaganza with my friends Joyce, Preeti and Deanna from the East-Side Cleveland SnB group! (All sadly blogless, I regret to inform you.) The day started out with breakfast and a little gift swap. We were meant to give something recycled or handmade: I gave Joyce some sock knitting books from my shelf, some chocolate and other little knitting support materials. But look what Deanna gave me!
The most gorgeous crocheted throw in my color of the moment! I love it! Deanna is a new knitter, so she didn't have much of a stash to draw from, so instead
she finished this blanket
. I must say, Deanna is amazing.
This
was either her first or second knitting project. And she followed that up with
this
. She is currently knitting a
cabled cardigan
from
Men in Knits
for her husband. Yeah. Amazing.
And, of course, there was yarn shopping. We hit three stores: Tamarella Yarns in Painesville,
Knitting on the Square in Chardon
, and Cast On Cafe in Willoughby. The proprietors of each shop were very friendly and each had a nice selection. The Cast On Cafe has a nice little room at the back where you can sit and knit and have a cup of coffee. They also have an amazing selection of mmmmm-Manos. I couldn't resist. I got two skeins of this: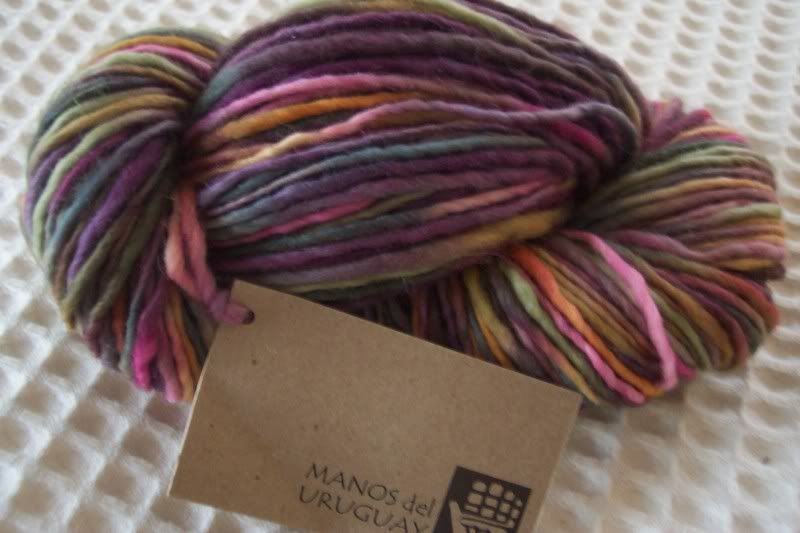 which will become
this
(I think it's even the same colorway). I also got some Kidsilk Haze to make some Mrs. Beeton's and some Silk Garden to make a Clapotis (more on this in the coming days).
There was knitting, too. Just before the pizza arrived at Preeti's, I finished a project!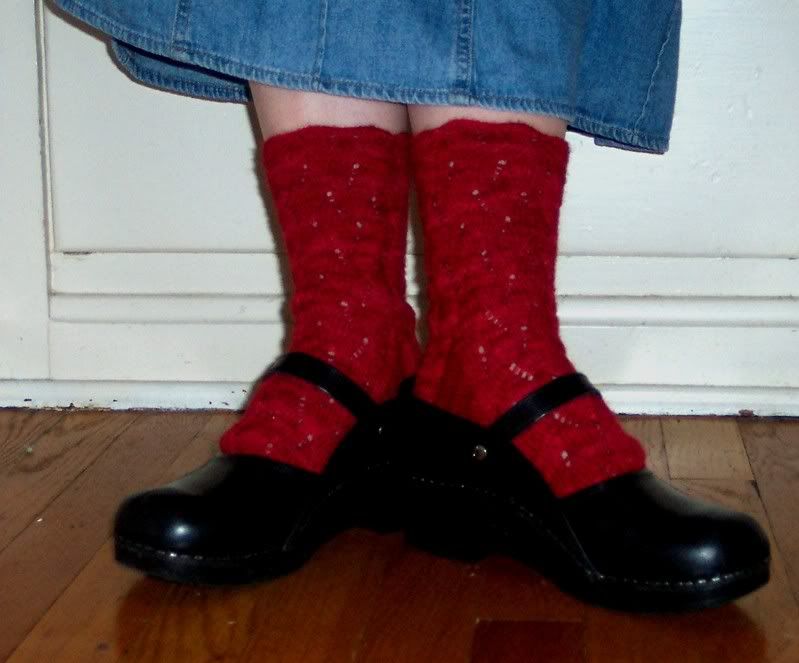 Pattern
: Waving Lace Socks by Evelyn A. Clark, published in Interweave Knits
ETA

: The pattern appears in the Spring 2004 issue of IK.
Yarn
: 1 skein of
handdyed Knit Picks Color Your Own merino sock yarn
.
Needles
: Size 0 (2 mm) 40 inch Inox circular for Magic Loop method.
Comments
: Fabulous pattern! I highly recommend it. I chose the scalloped cuffs and, as I have mentioned before, I opted to knit a heel flap instead of my customary short-row heel. I like them, though I probably could have made the flaps a little shorter. I just love the way the gusset looks. Let's see a close-up, shall we?