Another Pair of Small Socks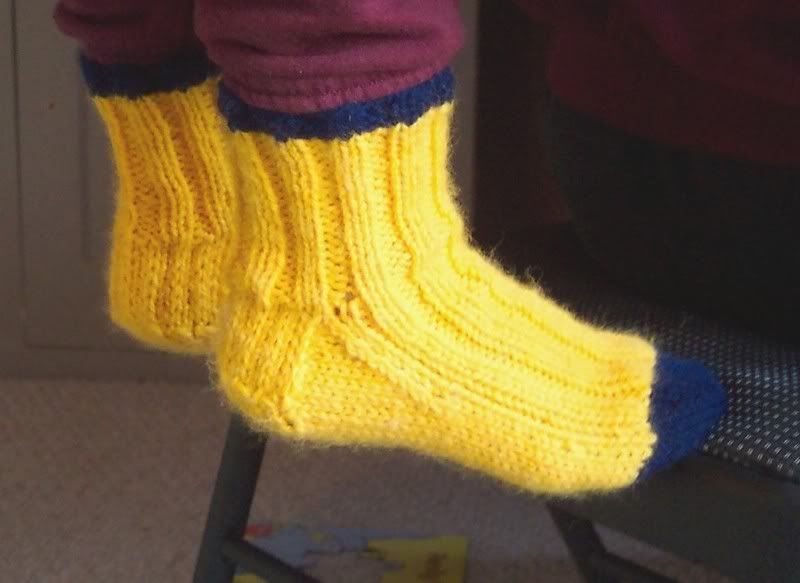 NB, Ohio readers: no inferences about my loyalties should be drawn from
the colors
of these socks. Yellow is S's favorite color.
Pattern
: None, just basic house socks
Yarn
: Plymouth Encore Worsted in navy and school bus yellow
Needles
: US 5 Knit Picks Options Circulars
Size
: About 6.5 in circumference (unstretched) and about 7.25 in long
Method
: CO 40 sts in navy and worked two rows in 2 x 2 rib. Continued rib in yellow until the leg measured about 3.5 inches from the cast on. Worked a traditional sl1, k1 heel flap for 14 rows. Turned heel using this method and then picked up 10 sts on each side for the gussets. Decreased back down to 20 sts for the sole. Worked the instep in rib for a better fit. When I was ready to decrease for the toe (at about 5.25 in from back of heel), changed to navy yarn. Decreased on alternate rounds to 10 sts, then every round to 6 sts. Grafted toe on first sock successfully, while knitter friend who is killer finisher sat next to me telling me what to do. Grafted second toe alone. Not so much a success. Oh well.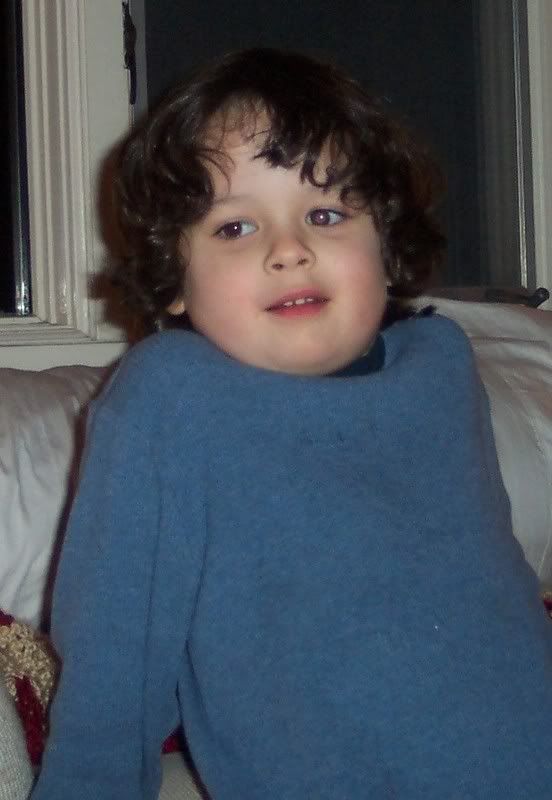 Because the recipient of these socks hasn't been pictured here in a while, because he is so darn cute and so dear and because, frankly, foisting pictures of one's children onto innocent bystanders is one of the pleasures of parenthood, I present a completely gratuitous picture of my elder son, S.
Something interesting has happened this year. It's been about five years since I started knitting again and I've been really seriously knitting for about three years. Suddenly, in the last few months, family members have started to request knitted goods. I guess it took a while for them to have confidence that they would get something wearable. Or maybe they have concluded that as it is unlikely that I will ever stop knitting, they may as well cash in on my obsession.
Mostly, they want socks. My mother requested socks. My aunt now wants socks. My sister's boyfriend wants socks. (Query: does the Knitting Curse extend to siblings' boyfriends? I think not. I hope not.) J wants
another
pair of socks. They'll all be getting pairs made from machine washable worsted. It would take me forever to knit fingering weight socks and I don't want to take a chance that they will forget to hand wash. I may need to do some yarn shopping. Darn.