Cast Off, Cast On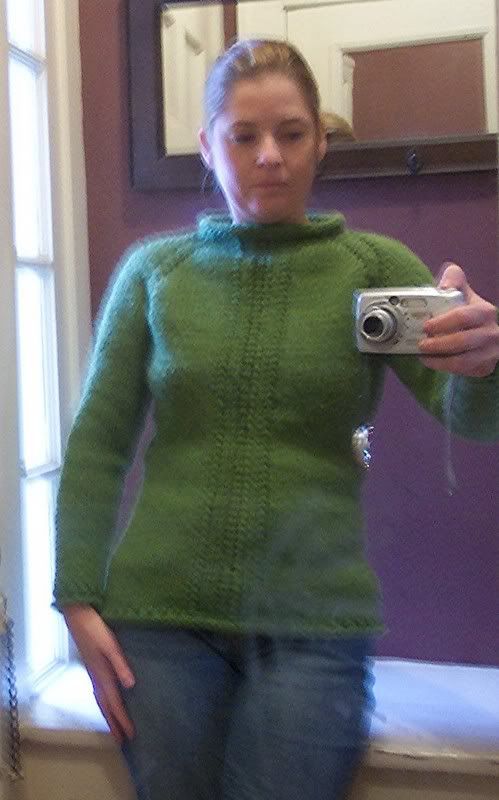 I know what you're thinking.
Yay, another picture of Laura's foyer!
Sorry. I seem to be incapable of taking a decent picture of myself.
Pattern
:
Licorice Whip
by Blue Alvarez Designs in size XXXS
Yarn
: About 6 skeins, I think, of Wool-Ease Chunky (25% wool, 75% dinosaurs) in Grass
Needles
: US Size 8 Knit Picks Options circulars
Modifications, Thoughts
: The original pattern called for a cotton yarn; I had several skeins of this Wool-Ease Chunky in my stash and the recommended gauge was exactly the same as that for the sweater. I shortened the sleeves considerably, to a bracelet length (otherwise known as "a little too short"). Long sleeves are nice for the warmth, but they get in my way when I am in the kitchen.
I knit the XXXS because I wanted a fitted sweater, and I certainly got it. I did block it to be slightly bigger, because the lace pattern was not as open as I wanted. The finished bust measurement after blocking is 35 inches.
It's a fun and easy pattern to knit, and I do like the finished object. It fits. But I'm not thrilled with the yarn. The fabric is a little stiff and the bottom edge is still rolling in spite of the blocking. I'd love it if it were a tiny bit drapier. My friend Preeti and I are thinking about killing the acrylic with steam to make it less stiff. Does anyone have experience with killing acrylic with purpose? Here's another picture, included completely gratuitously because it features my seriously cute son.
As you know, I've had good intentions lately of doing knitting for others. (Not long after I started those good-karma socks for Mom and the scarf for the Red Scarf Project,
this happened
. Coincedence? I think not.) I've finished one of those Mom socks and I've made good progress on the red scarf. I resolved not to cast on anything for myself until those projects, and the Anastasia socks, were finished.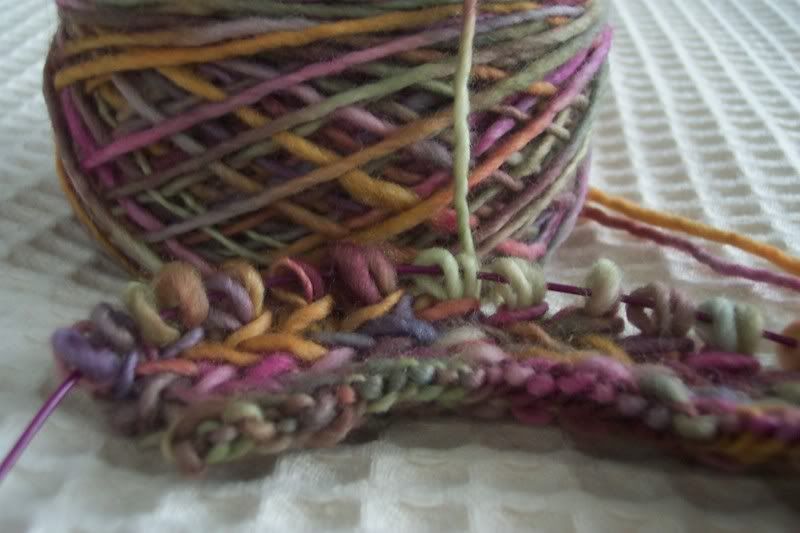 The spirit is willing, but the flesh is weak.