Fastest Project Ever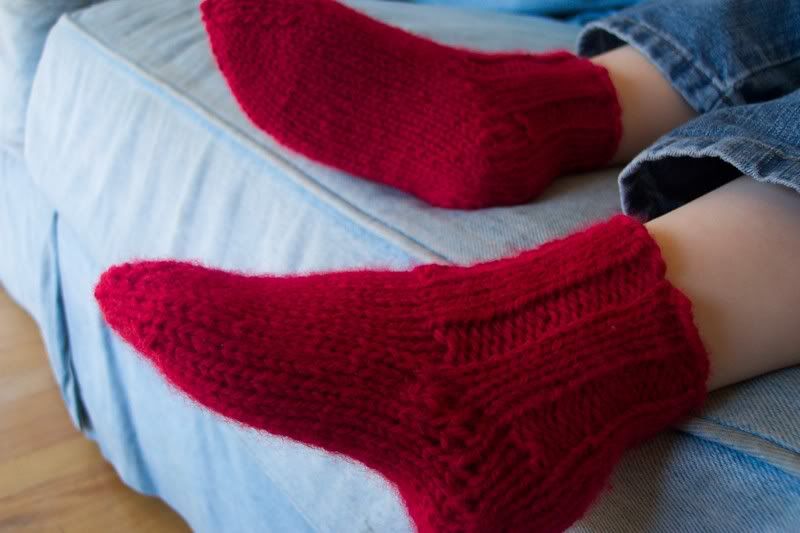 If you want to finish something fast, make house socks for an almost-four-year-old in worsted. J noted that I was making socks for Grandma and requested that I make him a pair of socks, too. Red ones. I have a hard time saying no to
this face
.
Pattern
: No real pattern, just plain ribbed socks
Yarn
: A little bit of Plymouth Encore Worsted in dark red
Needles
: Size 5 Knit Picks Options Circulars
Gauge
: About 4.75 sts per inch
Method
: Cast on 30 sts and worked 3 x 2 rib. Did a short row heel with 5 unwrapped sts in the middle. Knit the foot plain until it looked about the right length (about 5 inches from the back of the heel). Decreased the toe (working decs one st in from the end of each needle) until I had 3 sts on each needle. Drew tail through remaining sts and tied off.
Thoughts
: I usually think short row heels fit me a little better than heel flaps, but I think the heel flaps might have fit J better. Now on to socks for his brother!
Tomorrow is without a doubt my very favorite holiday. You can't beat a holiday that is all about hanging out with the people you love, eating yummy food, and generally relaxing. I am hoping to get a little knitting in as well. To all of you in the United States, Happy Thanksgiving!