I'm Laura, and I'm a Pattern Addict
Because I am an admitted pattern ho, I will go to great lengths to add to my already burgeoning collection of knitting books and magazines. Recently, I became obsessed,
obsessed
with acquiring copies of Jo Sharp's new magazine, Knit. The issue pictured at left was simple enough to find from American online sources. But, no, I also had to have the newest issue. I simply could not wait. Even though the latest issue of an Australian knitting magazine would obviously feature
summer
patterns.
So I ordered these lovelies from an Australian source,
Ozeyarn
. The prices were amazing--half what each issue cost at the American sources I found. Even with international shipping, it was a better deal than ordering them from a U.S. source. I received my order surprisingly promptly, considering the distance that it was travelling, along with a nice note from the proprietor, color cards for Ozeyarn's own yarns, and a price list for the other yarns they carry. I'll have to do some comparison shopping, but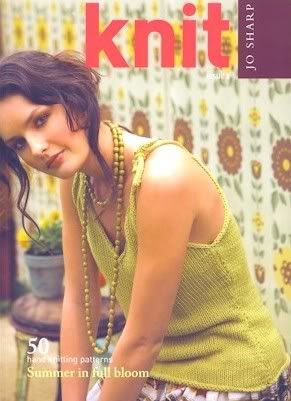 their prices for Jo Sharp yarn look very competitive.
As to the content...well. The photography is beautiful, the layout is uncluttered, and the patterns are really fabulous. Be aware that these are really pattern books; there are no articles such as those you find in, say, a Rowan magazine. But if you like simple, clean, classic knits as I do, then these books are for you. Hie yourself over to Ozeyarn and order them!
While I liked both issues, I actually found more patterns that tempted the immediate cast-on in the summer issue. There are several long-sleeved pullover and cardigan patterns offered that would be suitable for winter wear in most parts of the Northern hemisphere, either in cotton for the more temperate climates or in wool for us Northerners. Several of the patterns had alternate fit options -- a shrug pattern offered both a snug and loose fit in various sizes and a bolero pattern was written for both long and short sleeves. The patterns are offered in a somewhat limited range of sizes; most patterns are written for four bust sizes ranging from 80 to 110 cm (31.5 to about 43 inches). A few patterns also included 120 and 130 cm bust sizes.
Once I finish some good-karma-creation-knitting for others, I hope to cast on one or more of these lovely patterns. The bolero and the shrug from Issue 2 are calling me, as well as the lovely lace sweater pictured below.
I also love this shawl collar cardigan knit in an alpaca blend from Issue 1.
I must have the finishing bug. I finished Clapotis, and I am furiously at work on the Licorice Whip sleeves. I've also knit a couple of 2 x 2 ribbed hats for the boys. For some reason (gnomes?), even after thorough searching, I cannot find an entire box of winter hats, gloves, scarves, etc. I swear I am not as disorganized as that makes me appear. Last week, I was embarrassed to send my children off to school hatless
with snow on the ground
. Shamed, I cast on hats for them over the weekend and finished the second one last night. Bad Mommy no more. Just in time for the warm front.