Just Like Consumer Reports. For Yarn.
Lately, I've been thinking a lot about scarves.
Thanks, Lolly
! One that I am just dying to cast on is the very popular
"My So-Called Scarf"
in that lovely Manos del Uruguay Wildflowers wool I bought on my yarn crawl. Then I got to thinking. (Uh-oh.) If I wanted to make more of these scarves as gifts, maybe I could save a little money by using Lion Brand Landscapes instead. As
Gwen Stefani might have sang
, "I'd have all the Manos in the world, if I were a wealthy girl." But I'm not.
But would I really be getting a better deal? I set out to do a little comparison shopping and thought you all might be interested in what I learned. So, here I present another in an occassional series of Lion Brand v. Fancy Yarn smackdowns!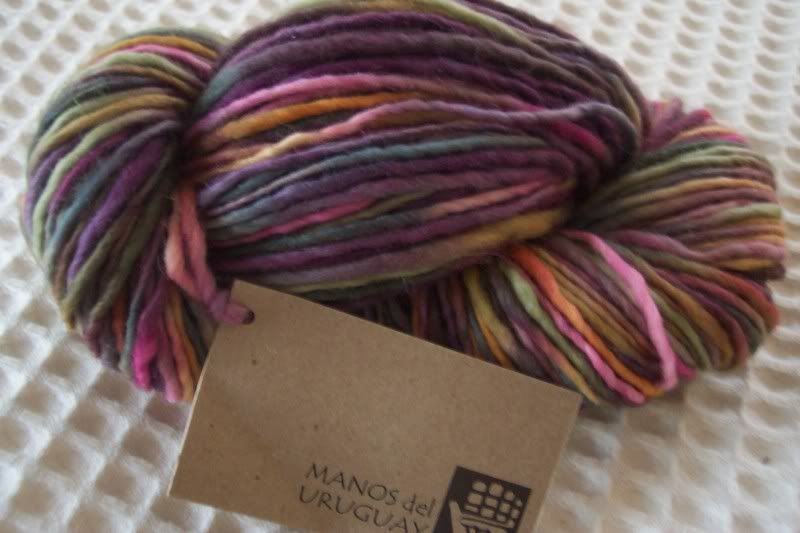 My-So Called Scarf calls for two skeins of Manos del Uruguay multicolored yarn. That's 276 yards of a heavy worsted-weight yarn. It's 100% wool. At the LYS where I purchased it, it cost $14.99 a skein, but I found it at
Jimmy Beans Wool
for $13.50 a skein and a limited selection of colors can be found at
eBay Express
for only $9.99 a skein.* If you buy it at Jimmy Beans, you'll pay $27 for the yarn to make this scarf. This is unequivocally a beautiful, soft, delicious yarn that is also a
fair trade product
.
On to the Lion Brand alternative. Landscapes looks a lot like Manos or Malabrigo. It's a space-dyed, unplied soft yarn which comes in 55 yard balls. However, it's 50% wool and 50% acrylic. It's a bulkier weight than the Manos, so let's assume you would need a little less of it. Four balls would give you 220 yards, probably plenty to make a similarly-sized So-Called Scarf. In the Lion Brand catalog, Landscapes is sold for $5.99 a ball. I found it at
Knitting Warehouse
for only $4.73 a ball. If you buy your yarn from Knitting Warehouse, the project will cost you $18.92. It's important to note that although this yarn has a high synthetic content, it is
not
machine washable. Lion Brand claims that it will felt with machine washing and drying.
Conclusions: I have knit a scarf with Landscapes and I get many compliments on it. But it's not nearly as soft and pretty as the Manos yarn. If you buy Manos, you are providing economic opportunity to rural craftswomen, who are being paid fairly. You are also getting 100% wool rather than a synthetic. If you are willing to be flexible about your color choices, you can buy the yarn for this project on eBay for just a dollar or so more than you would pay for the Lion Brand yarn. I could charitably say that it's a toss-up, but to me, getting a natural fiber that's handspun and dyed is worth the extra money. You can make the call.
* I'm going to ignore shipping costs, as they can vary widely. To keep things simple, I'm just going to compare the cost of the yarn.
One could say that the Lion Brand yarn has a cost advantage in that it can be found in big-box craft stores, avoiding shipping costs, but the ones that I frequent don't always carry it.