A Non-Violent Weekend of Knitting
That means I didn't get around to the acrylicide. But I was very productive. I finished the socks for Mom.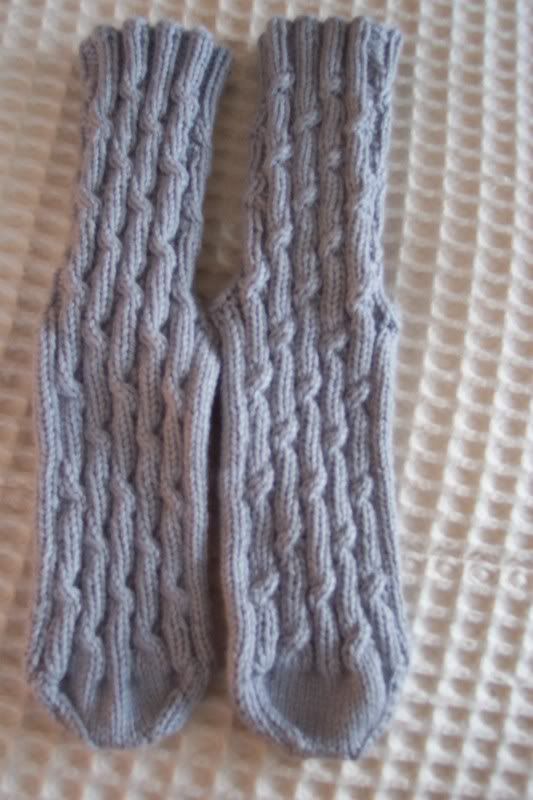 Pattern
:
Karen's Sugar-Free Socks
by Chrissy Gardiner
Yarn
: Debbie Bliss Cashmerino Aran color #104 (grey), 2 balls plus a little of a third
Needles
: 2.5mm (US 1) Knit Picks Classic Circulars
Modifications
: Changed needle size and made them shorter for my mom's petite feet; worked a short-row heel; made left-leaning cables on second sock so that they would be mirror images of each other. This was a wonderfully fun pattern to knit and I know my mom will enjoy wearing these very luxurious socks.
My friend Preeti and I also dyed yarn. Because I am the cheesy sort that likes to name her craft projects, I'm calling my new sock yarn
"Everything's Gone Green."
Naturally.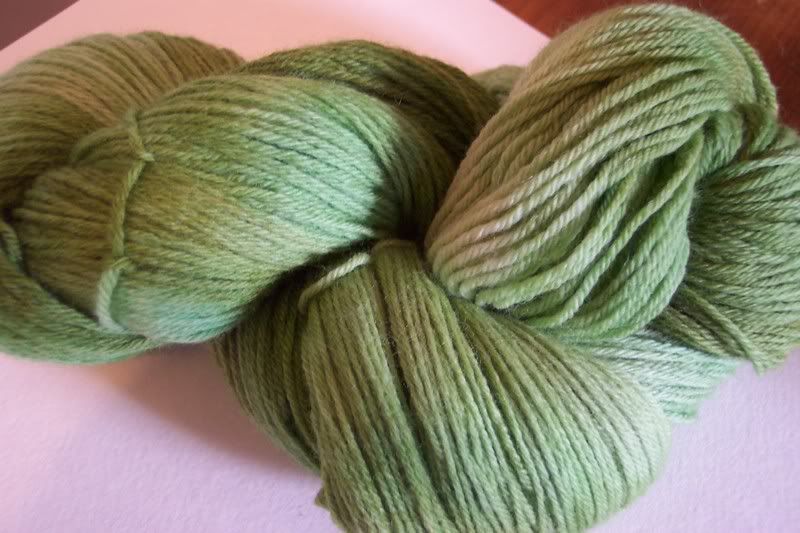 Yarn
: Knit Picks Bare Merino sock yarn
Dye
: Kool-Aid, 10 packets of lemon-lime and almost 1 whole packet of grape
Method
: Microwave; poured dye bath directly onto yarn and then added water to bowl.
I like the results! Preeti used the same recipe to dye a skein of Cascade 220 worsted and hers is equally lovely. The colors vary from very pale green to olive to dark green. Next time, I'm going to try using more kool-aid and go for a darker, more solid shade.
I also dyed some worsted weight.
Yarn
: Cascade 220, in white
Dye
: Kool-Aid, 7 packets ice blue raspberry lemonade and 4 packets plain lemonade
Method
: Microwave, mixed dye bath, added the yarn and stirred.
I wanted to do two things with this skein: first, to try to achieve a shade that is not super dark, but is nevertheless not too kiddy-looking and, second, to get a less variegated result. I think I was relatively successful. The yarn is nearly solid, with just tiny areas that are darker. Very pretty. My first impression of the color was,
mouthwash
. But the more I look at it, the better I like it. It's a vibrant happy aqua blue, like the paint on an Art-Deco stucco beach house. I'm calling it "Swimming Pool." It is destined to become a pair of One Skein Cabled Footies.
Finally, I spent Saturday morning and afternoon cleaning out the third floor of my house. For the last three years, we have been using the two rooms up there as S's therapy area for his ABA program. But now he's in full-day kindergarten. The little bit of home therapy we are still doing we like to do all over the house, so that he can generalize his skills. So I organized and put away reams of paperwork, threw out a lot of trash, and made one of the rooms a play room. The other room now houses the stash, some of my knitting books and magazines, assorted crafty goodies, a comfy chair, a CD player, and my hard copy of The Crane Wife, among other things.
It's a happy place.