Words Cannot Express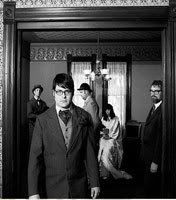 ...how completely amazing the Decemberists show was. I won't bore you with the blow-by-blow, but suffice it to say that any concert that involves some of the band members entering the audience to stage a "reenactment" of the Battle of the Somme is going to be memorable.
If I were not a mommy with adult responsibilities, I would be driving down to Columbus to see them again tonight.
I must have had a rather rapturous look, or at least a big dumb grin, on my face during the entire show. Afterwards, a woman at the table next to mine said she worked for the band and gave me a print of some of the artwork from the Crane Wife. She wanted me to have it, she said, because I seemed to be the biggest fan of the band in our section of the theatre. I am not certain whether I should feel honored, or embarrassed.
I'm going to go with "honored."