How Very Fetching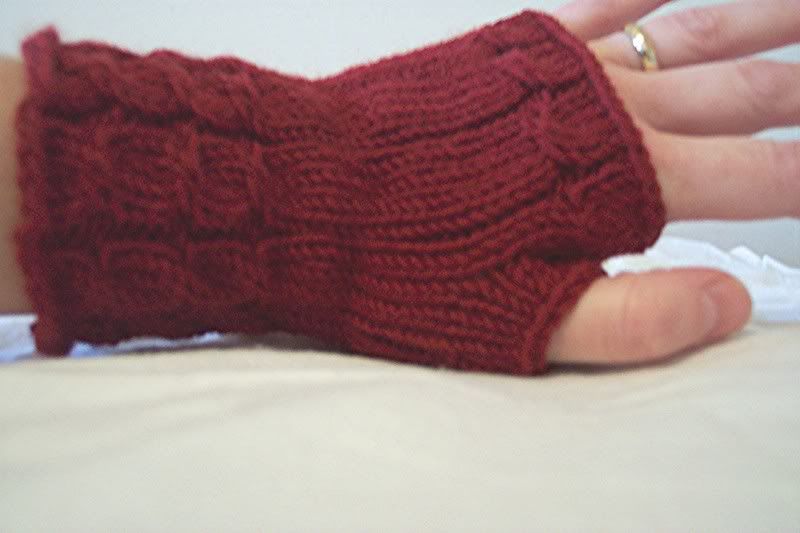 Take my word for it. This glove has a match and I made another pair in black. But I can't take a picture of them to save my life.
Pattern
:
Fetching
by Cheryl Niamath
Yarn
: One pair in Debbie Bliss Cashmerino Aran (used the entire ball) and one pair in Filatura di Crosa Zara (had a bit left over from one ball)
Needles
: Knit Picks Options 40 inch circulars, size US 5
Modifications
: See the previous post for notes about running short with one ball of Cashmerino Aran. Annie noted in the comments that she solved this problem by working one fewer rib row between the cuff and thumb. That seems like a better solution, one which I will use when knitting this pattern again with CA.
Zara
, I think, is an excellent substitute yarn for Fetching. It has the same smooth, silky, squishy feel as the Debbie Bliss yarn and is equally luxurious. Plus, there's plenty of yarn in one ball to make a pair. I had enough left over that I could have made the cuff or hand portion a little longer, if I needed to. Zara is machine washable and about the same price as a ball of CA, as well. The only real difference is that it is 100% merino rather than a cashmere blend.
This is a great pattern, easily memorizable and very quick to knit. The cables are fun. Plus, the gloves are, well,
fetching
... very attractive indeed. I will be giving these to a sister and an aunt who live in California. For a temperate climate, I think they are perfect. Of course, even Cleveland is temperate these days. Gloves for global climate change. What more could you want?
Labels: Warm Hands