New Year's Knitting
Well, I'm starting out the New Year with an ear infection. (Huh? I thought ear infections, like Trix, were for kids.) So we have comfort beverages, comfort reading, and comfort knitting. Specifically, that would be coffee, historical fiction, and an Elizabeth Zimmermann sweater for the boys. We'll see which one it fits when I am finished.
And here's my last FO of 2006, the mistake stitch scarf for the Red Scarf Project.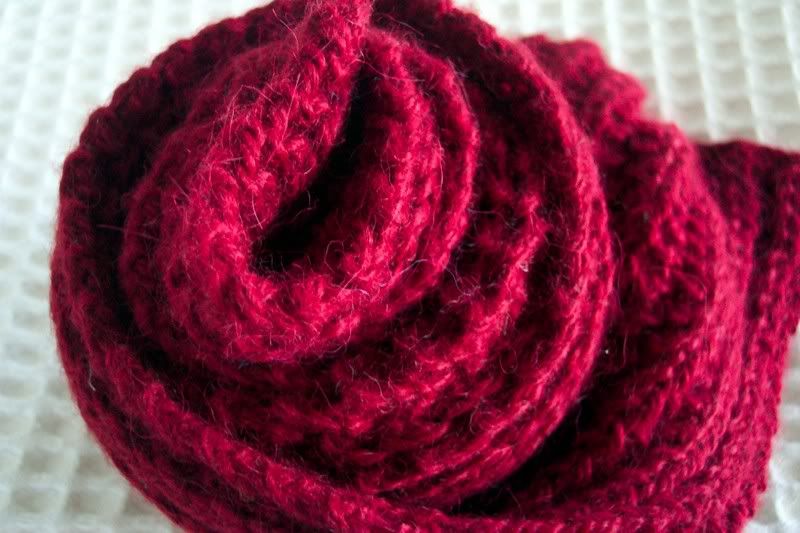 I knit this with two skeins of Knit Picks Decadence in Winter Berry, with size 10.5 needles. This yarn is such a pleasure to knit with. But be forewarned: when I washed it, the scarf grew
over 8 inches
in length. That was actually a good thing in this case, but if I had been knitting a sweater, I'd have wished that I washed and blocked a swatch.
The other day I received a BIG box in the mail. Here's what was in it. Sorry, not yarn. This is what I'll be up to for the next two months. I applied late to take the February bar exam, so if my background check isn't done, I'll have to wait until July. But I have to start studying now, just in case I
can
take it in February. So I apologize in advance if I get even more behind on blog reading, answering emails, commenting, etc. etc., as this is very likely to happen.