She Blogs!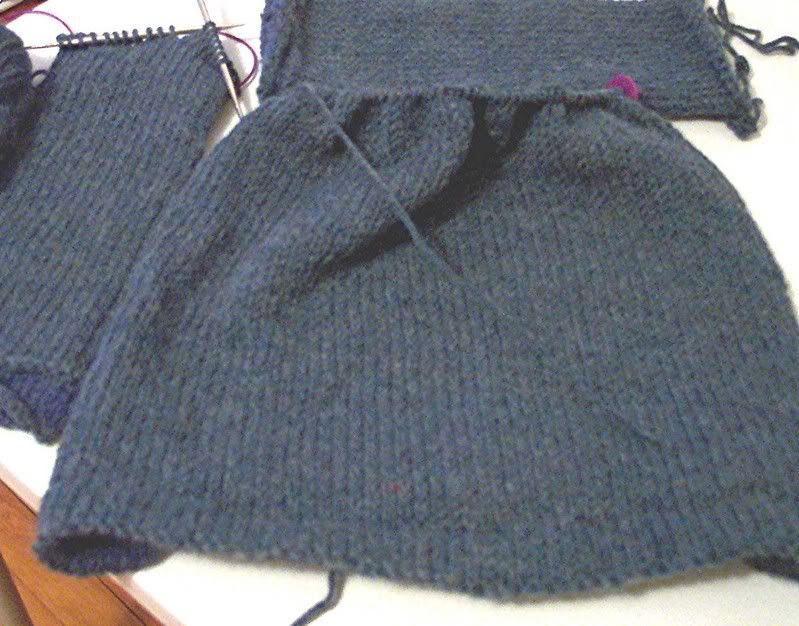 ... and knits, too, believe it or not! The bar study is proceeding apace. Torts, Evidence, and Contracts have been the topics filling my head this week. (Did you know that you are absolutely immune from a slander suit if you make the slanderous comment only to your spouse? So feel free to let loose on the topic of that annoying neighbor, but only to your sweetie!) I am managing to keep up with the schedule, but that's about all I am keeping up with. I am woefully behind in answering emails and I haven't been able to read and comment on all your blogs, either. I apologize.
Fortunately, I have discovered that I can knit something simple (e.g., stockinette in the round) while reviewing my notes and reading the outline books. So the EZ sweater is also moving right along. As you can see, I am almost to the point where I can join the sleeves and the body, otherwise known as The Fun Part. I haven't quite decided yet whether this will be a simple saddle-shouldered style or the seamless hybrid. For those of you who might have been wondering about the yarn I am using and haven't heard back from me yet, it's the highly kid-friendly Plymouth Encore Worsted in color 670. It's a beautiful blue-green, much better than it looks on my monitor, anyway.
Of course, all this study and whatnot hasn't stopped me from joining another knitalong, the Green Socks Knitalong. I have been thinking that I need some green socks and that could be a very study-compatible project. Plus, look at all the green sock yarn I have!
(Clockwise from far L: Knit Picks Merino handdyed with kool-aid, Cherry Tree Hill in Blues/Greens, Knit Picks Essential in Grass, Knit Picks Memories in Fly Fishing, Trekking XXL color 100, Fleece Artist Basic Merino Socks.)
Labels: I CAN Knit Sweaters, The Stash