This and That Friday
So... sorry about all the not-new feeds ... affiknitty has officially switched to the New Blogger. I feel compelled to make up for it with a new post. And thanks, too, for all the nice comments about the Son and the Sweater.
The interview was a complete joke. I was there for, maybe, ten minutes. As I have little to explain in my past (frankly, I'm completely square), there wasn't much to talk about. I suppose there was that shockingly large stash of Wool-Ease, but I don't think the Bar Admissions committee is worried about lack of judgment in stash enhancement. (Thank God.) Anyway, my application is being approved and that means come February 27th, I will be in Columbus sitting for the exam. Gulp.
Monday night
PCR
and I went to a local venue for a little musical entertainment. We saw Asobi Seksu and they were fantastic. I highly recommend that you see them if you like shoegaze-dream-pop and they visit your hometown. Opening for them was a local band, Bears, who were excellent as well. They play a lovely, ever-so-slightly psychedelic indie pop reminiscent of Belle and Sebastian. The percussionist/glockenspiel player is the roommate of S's tutor, so I am especially pleased to let people know about them.
The knitting is going surprisingly well. I continue to be obsessed with knitting sweaters for small boys. Expect an FO post on J's EZ sweater very soon. I am already in the planning stage for sweater #3 for my nephew. Startitis has also set in. Yesterday, I toddled off to the big-box craft store, for the
sole purpose
of purchasing a large crochet hook to bind off the neck of J's sweater.
You can imagine how successful I was at buying only one crochet hook. They had Patons SWS (70% wool, 30% soy), a yarn which I have been wanting to try, so I picked up a little and cast on while listening to my Commercial Paper lecture.
If Nona swatches
, Laura can too.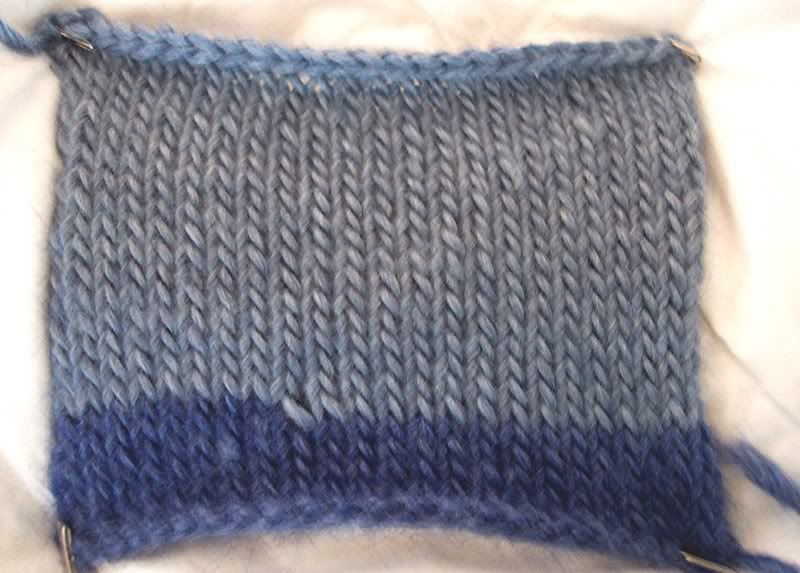 The yarn is wonderful to knit with, soft and silky feeling. But ugh, this striping! This is the Natural Denim colorway, and the swatch measures 6 inches wide by 4.5 inches high. I was hoping for shorter color repeats and more gradual changes. SWS, take two ... this time with Natural Plum.
This is the beginnings of a house sock for me, knit in 3x1 rib. I'm not sure if this is hideous or beautiful. In any case, this is what I had in mind in terms of color changes and repeats. They will make warm and comfy socks and I think the colors will make me smile. Now, I really need to hit the books.
Labels: My Music Obsession, The Jealous Mistress, The Stash