The New Not-Ugly Sweater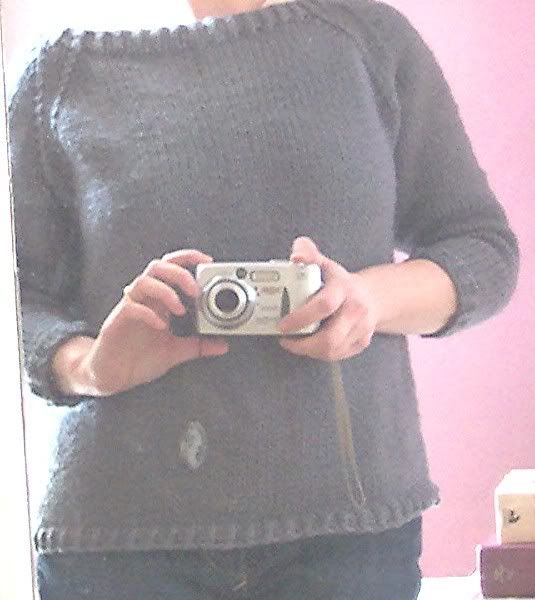 Pattern
: Elizabeth Zimmermann's Seamless Raglan Sweater from
Knitting Without Tears
Yarn
: 5 skeins Knit Picks Wool of the Andes Bulky in Pewter (Gray for Project Spectrum!)
Needles
: Knit Picks Options circulars, size 10
Finished chest size
: 37 inches
I apologize for the grainy photo. My camera is on its last legs (lens?).
As I mentioned in my last post, my goal here was a comfy, warm sweater that I can wear in public. I was telling PCR that I decided to skip any waist shaping. "After all," said I, "it's really supposed to be like a ..." (I am thinking
sweatshirt
.)
PCR jumped in. "Blankie?"
Well, yes, actually.
As you can see, I also skipped shaping the back of the neck, because I like boatnecks. And the three-quarter length sleeves? Yeah, I absolutely meant to do that. Ahem. (I swear I measured them against a sweater that fits. ) Fortunately, the shorter sleeve is more functional for me anyhow. The bottom, cuffs and neckline are 1x1 twisted rib. I have decided that I will never again do an
un
twisted 1x1 rib, as this looks So Much Better.
Jennie
and I were apparently coming to this same conclusion at about the same time.
I like the Wool of the Andes Bulky. I would call it "chunky" rather than "bulky." It's soft and warm, and it knit up quickly while still making a nice looking garment. I bet it would be fantastic for felting.
And now, I will leave you with a little preview of My Precious.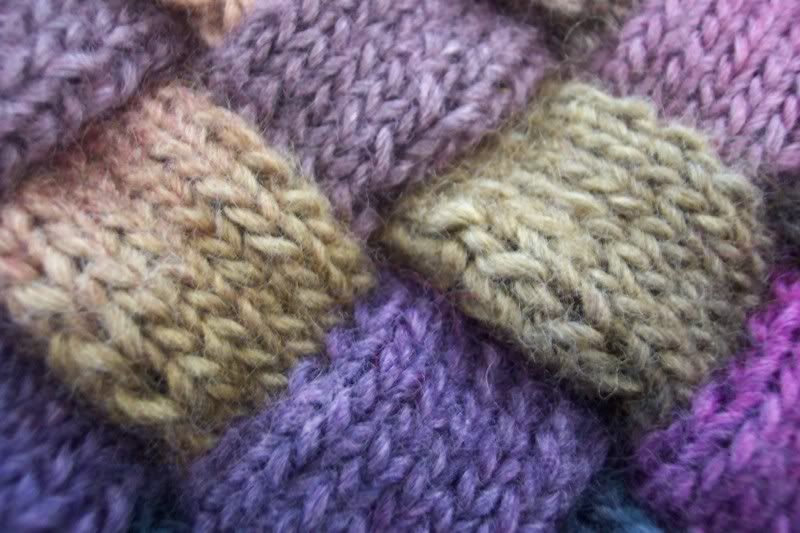 Labels: Entrelac Love Affair, I CAN Knit Sweaters, Project Spectrum 2.0