Now I'm a Believer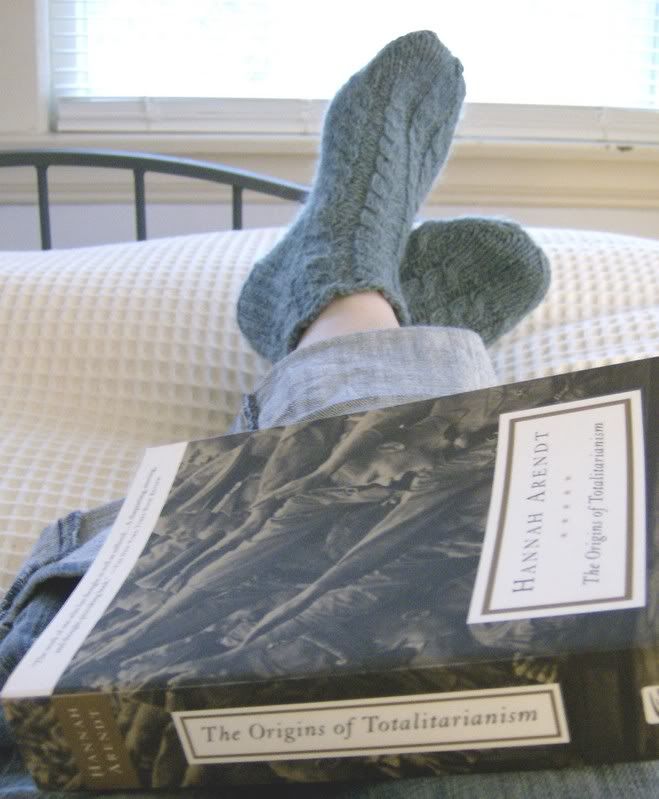 Pattern
: Cabled Footies by Leigh Radford in
One Skein
Yarn
: About half a skein of Peace Fleece
Needles
: 3.75 mm Knit Picks Options circulars
Modifications
: Decreased the toe a little differently to make it less pointy.
So, here they are, the entrelac-break footies. They're pretty cerebral, as socks go. The originals were pictured with Kierkegaard, but these are reading Hannah Arendt.
First of all, another big thank you to
Brianne
, who gave me this yarn a long time ago, either because I won a contest or she's a sweetie or, most likely, both. I have to say, I had heard many wonderful things about Peace Fleece, but I was a doubter. In the skein, it felt so scratchy. And kind of puny ... the stitches didn't look so pretty. But, then, I gave them a Eucalan bath. It made ALL the difference. Now I know what people mean by "the yarn really bloomed." I love this yarn. I am tempted to hoard.
Thanks everyone for the nice comments about my Lady Eleanor. I am about halfway done with it. This weekend I started the Must Have Cardigan (more on that soon) and it's nice to alternate between the entrelac and cables.
A bit of randomness: my friend
Preeti
and I have a new blog project! It's called
Cleveland in Photos
and we post a picture of our city every day. There's a fabulous and interesting community of city daily photo blogs that are well worth visiting. Anyway, drop by if you'd like a closer look at my wonderful hometown.
Also, check out Preeti's blog for a more "mathematically rigorous" version of the Knitting Happiness graph!