The Story of the Ugly Sweater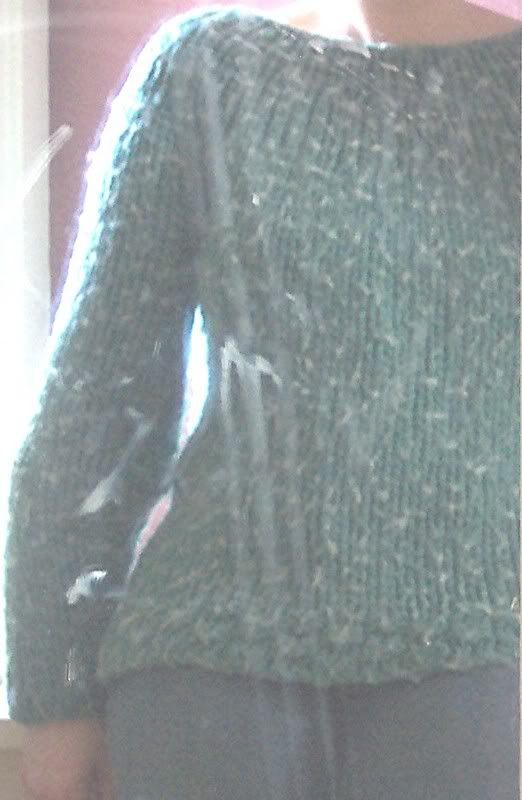 Let it never be said that Affiknitty is a mere vehicle for knitterly showing off. Today, I uncover my sartorial shame. This, my friends, is the Ugly Sweater. Technically, it is an Elizabeth Zimmermann seamless yoke sweater and it was knit in Wool-Ease Thick and Quick. I finished it the winter before I started blogging.
Here
is a (rather blurry, sorry) picture of it in better days.
Some
things
age
well
.
Some
things
do
not
. Sadly, sweaters made of Thick and Quick (at least in this color) are in the latter category. It is ridiculously too large,
pilling
doesn't begin to describe the surface of the fabric, and it generally makes me look as though I am wearing the pelt of dead Muppets. Never is my tongue more firmly in my cheek about "cultivating fabulousness" than when I am donning the Ugly Sweater. And I have been wearing it
a lot
. It was the perfect study sweater. For some reason, S and J love it -- S has even brought it to me to put on. I even sleep in it.
But I came to the conclusion that this sweater really should not be making appearances outside Chez Affiknitty. I decided to knit another comfy, shapeless sweatshirt-alternative while I was studying.
PCR
very diplomatically agreed that this was a good idea. So, next on Affiknitty, the New Not-Ugly Sweater.
This brings to mind a question.
Kimberly
recently finished a beautiful Ribby Cardi. I commented that it seems to be a knitting Perfect Storm -- fun to knit and a pleasure to wear.
For me, I must admit that the Ugly Sweater is one of those projects. But, even more, I loved knitting Clapotis and I wear it all the time. It was with me at the Decemberists concert AND the bar exam. What more can I say?
So, tell me. Which project do you love to wear as much as you loved to knit it?
Labels: For Shame, I CAN Knit Sweaters, Talk Amongst Yourselves