Lost: My Focus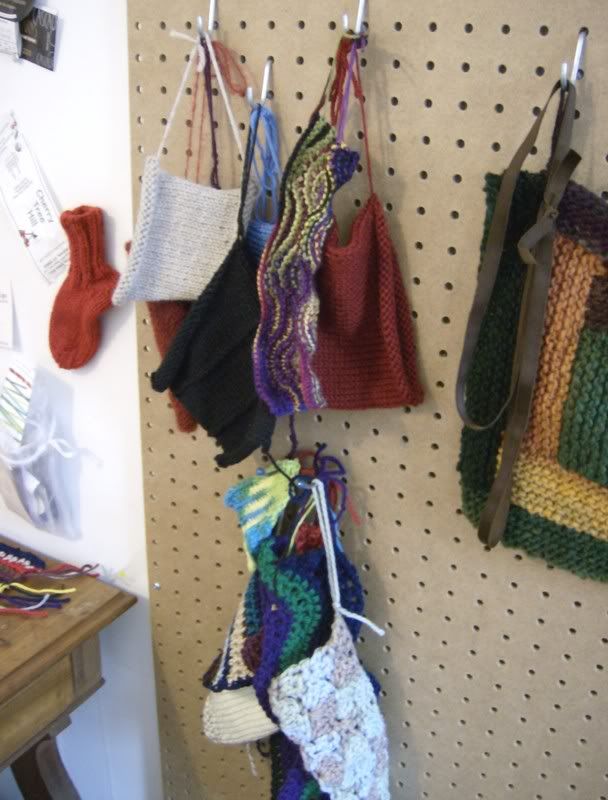 Call it a swatch, call it a coaster, call it what you will. But these are the only "FOs" I have to show.
I am knitting (and crocheting), but the only things I manage to finish are swatches. Here is a reasonably comprehensive list of what's on my needles:
Three pairs of socks
Two sweaters
Two scarves
Three blankets
Two pairs of mittens
Also, I have started and nearly as quickly abandoned several other projects (the Cable-Down Pullover from the Spring IK, Tiffany mittens, Chevron scarf, Pomatomus socks, etc., etc.). The reasons for aborting these are varied and predictable: gauge totally off, colors all wrong, yarn not working for the pattern, size ridiculously too large. I especially seem to be having problems with socks (sob!), as many of the patterns I really want to knit have not been working out for me. I knit too loosely. I have trouble getting gauge. These socks would fit someone with a wicked case of edema. Waah waah waah.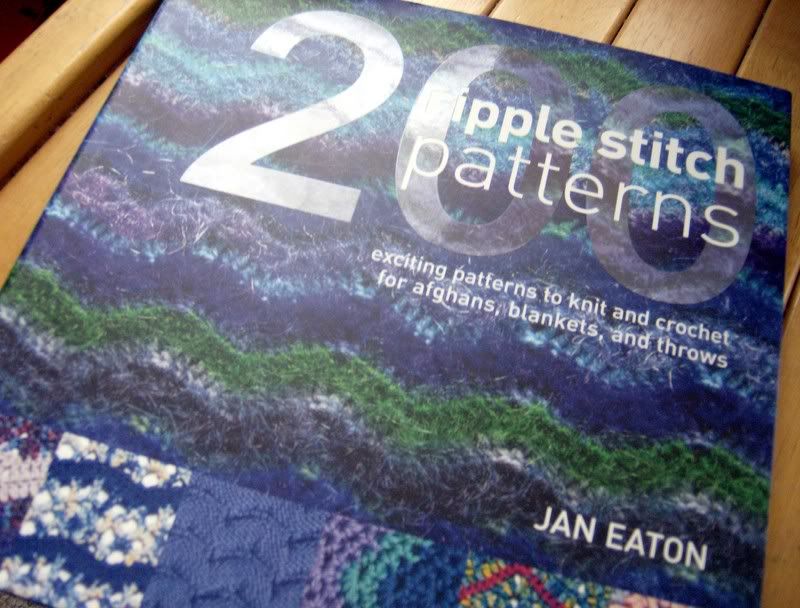 Helen asked about the patterns in
this book
, so I thought I'd share my $0.02 about it. I do really like the book. It's very attractively photographed and clearly laid out. On each left hand page is a knit stitch pattern and on each right hand page, a crochet pattern. One really nice feature of the book is that the table of contents includes a thumbnail picture of each stitch pattern, which makes browsing the book very easy. The book includes some very introductory information on color theory and choosing colors, as well as appendices in the back that illustrate how to make the basic knit and crochet stitches.
I only have a few little quibbles. First of all, the book contains "200 patterns" because each stitch pattern is illustrated in two sets of colors. Granted, with some of the patterns the look can be very different and how many ripple patterns can there be, but still. To me, that's more like
100
patterns. I wish the book included detailed information about the yarns that are used in the pictured swatches. And I really wish the knit patterns had charts. Some of them are lacy, and I just prefer to knit lace from a chart. But, all in all, I think the book is inspiring and well-executed, and I'm glad I added it to my burgeoning craft bookshelf. If you both knit and crochet, I'd say it's definitely worth purchasing.
Link-o-Rama!
- Baby Lug is here!
Go see!
- I'm sure you probably already know this, but
Sockapalooza 4 signups are open
!
- Greetingarts loves blue-green
and so do I.
- At risk of appearing to be stalking Alicia, I will point out that there is a
free crocheted baby blanket pattern
that is too sweet up at Posie Gets Cozy.
- A little late, but if you are either (1) wondering what to do with Peeps or (2) in the mood for a lovely tune by the Roches, visit alt-gramma and indie mom at
Speed of Dark
.
Labels: BooksBooksBooks, I Crochet Too, Link-o-Rama