And Even More Crochet!
Clearly, I cannot get enough of crocheting round things.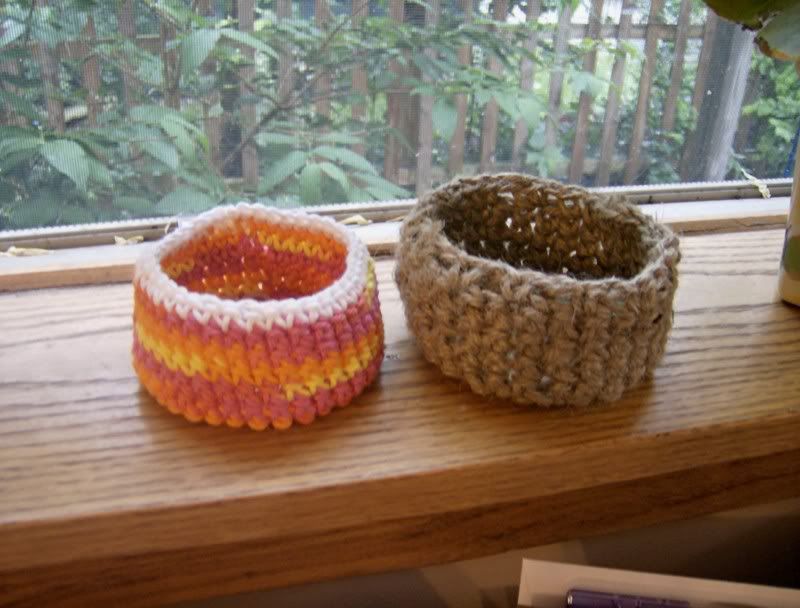 Pattern
: Little Bowls, from the
Crochet to Go
deck
Fiber
: Sugar n' Cream cotton for the one on the left, 3 ply jute garden twine for the one on the right
Hooks
: Size F for the cotton bowl, size G for the jute bowl
The key with these little bowls is very tight gauge. The cotton bowl really needed a smaller hook. The jute one turned out to be pretty sturdy. Granted, it wasn't exactly a relaxing crafting experience, but it was fun in its way. The jute would make nice coasters, too.
I also finished up another crochet project, which is blocking.
More details later, but for now I will only say that it's part of my devious plot to convince
Ashley
to start crocheting.
You all had some great ideas for the crocheted circles from yesterday.
Kim
probably wins the prize for "most unlikely" with
bikini top
and
knee pads
. I really liked
Stephanie's
idea to seam them together and stiffen them with cork between the layers. This would have the added benefit of allowing them to be used as hot pads. For now, the circles will remain one of those "enjoy the process" projects.
Link-o-Rama!
* I am really enjoying seeing all the book recommendations on Minty's and Lolly's blogs. My to-read pile is going to be totteringly tall!
* Speaking of books, I am practically biting my nails waiting for my pre-ordered copy of Amy Karol's book,

Bend the Rules Sewing

. (And the new Harry Potter, too, of course!) And Alicia Paulson announced on Posie Gets Cozy that

she

is working on a book, due to hit the shelves in fall 2008. ::swoon::
* Have you seen Scout's new colorways? Amazing!
* It must be summer, because I am itching to knit socks. Nona's astounding Sidewinders are about to be cast on, in spite of having three others on the needles. After seeing Sulafaye's finished ones, how could I resist?


By the way, I got my Ravelry invite last week. If you're there too, look for me! I chose the surprising name of "affiknitty."
Labels: I Crochet Too, Link-o-Rama