The Price of Dillentantism
... is that you rarely finish projects, and therefore have little to blog about. Also, I've been battling a case of the Blahs-Blehs-Blues, which tends to sap one's enthusiasm for most things.
Mostly what I've been doing in the last week or so is a little embroidery, a little sewing, and a whole lot of starting knitting projects. Ravelry really ought to come with a warning label:
Bearing down on me like a vicious tornado is the deadline for Sockapalooza. Naturally, knowing that I should be working on Deadline Knitting only makes me want to do Anything Else. Like sewing a new bag!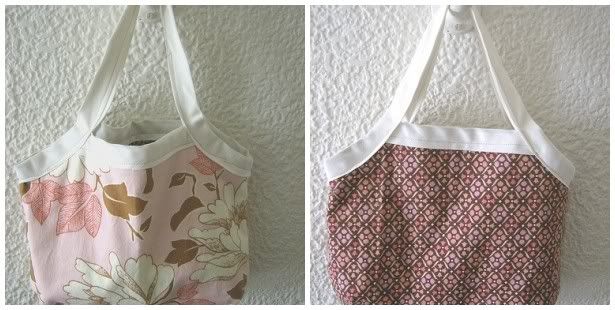 I made this from
Nancy's extremely fantastic tutorial
. I love that it is reversible, allowing me to show off both pretty fabrics. I made the handles shorter than she instructed and included a flannel inner liner in place of interfacing. This latter nifty tip I learned from
Amy Karol's book,

Bend-the-Rules Sewing
. Really, if you have any interest in learning to sew, or already love to sew, you
need
to run out and buy this book. It is so lovely and inspiring and really full of helpful information.
I swear, in my next post, there
will
be knitting.
**********
Link-o-Rama!
- Sulafaye has posted what may be the
Ultimate Variegated Sock Pattern
!
- Have you heard about
Pandora Radio
? It's the brainchild of the
Music Genome Project
. You tell them your favorite song or artist and, through some sort of computer magic, they create a radio station that will play music that has similar characteristics.
- This looks like a delicious and easy
refrigerator pickles recipe
. If anyone has a similar recipe for sour and garlicky pickles, please let me know!
-
Cutest
baby
booties
ever
.
- I want to make
this sweater
right this minute. Must ... finish ... sockpal ... socks!
Labels: Link-o-Rama, Sewing Sort Of