One Little Sock
Pathetically, this is all I have managed to finish lately. Starting things, that I am really good at. Finishing, not so much. These are socks for my niece, who was recently visiting from California with her twin sister, little brother, and Mom and Dad. (Her mom is my little sister.)
Olga
recently posted about the joys of the auntie gig. It's a nice job if you can get it; I only wish I got to enjoy it more!
Anyhow, Niecie M saw me pull out this yarn one afternoon when I was visiting with them at my mom's and was instantly entranced. She wanted socks from this yarn (Cider Moon Glacier in the highly girly Go-Go colorway). How could I refuse? Now I just need to make three more. Because I certainly can't make a pair for M and not her sweet sister T.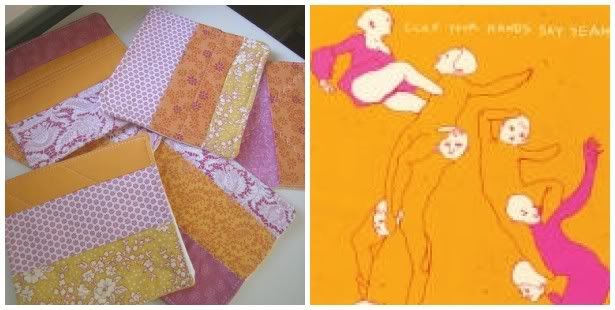 And here's a picture of the beautiful coasters I got from Ashley. I realized the other day that one reason I love them so much is that they remind me of the cover of one of my favoritest albums.
It's been so disgustingly hot here that I haven't touched my sewing machine in weeks, which makes me very sad. (My craft room is on the third floor of my old, un-air-conditioned house.) I've got my fingers crossed for a cold snap, along with some free time.
**********
The other day, Amy Karol of Angry Chicken wrote a
very interesting post
about reducing the presence of plastics in her home. I have made a little goal for myself of bringing no more plastic shopping bags into my house. I have several reusable bags from the grocery store, which I keep in the car. I usually carry a large bag, so small things can go into that. And, of course, I wouldn't be sorry to have an excuse to sew a bunch of cute totes as well. I'd like to be able to get rid of all my plastic dishes for the kids, but S recently has gone through a "breaking dishes and glasses when frustrated" stage (love you, autism!). I think he's about over it, but I'm not inclined to test it.
I recently saw this
New York Times
article about the
environmental impact of buying bottled water
and wanted to bring it to your attention. In general, bottled water is no healthier than tap water, is ridiculously more expensive, and results in millions of plastic bottles in landfills which take literally
centuries
to decompose. Having learned this, I've decided not to buy bottled water any more. Just a little food (or drink) for thought.
Labels: Knitters Are the Nicest People, My Passion for Socks, Swaps