Guess What? More Socks!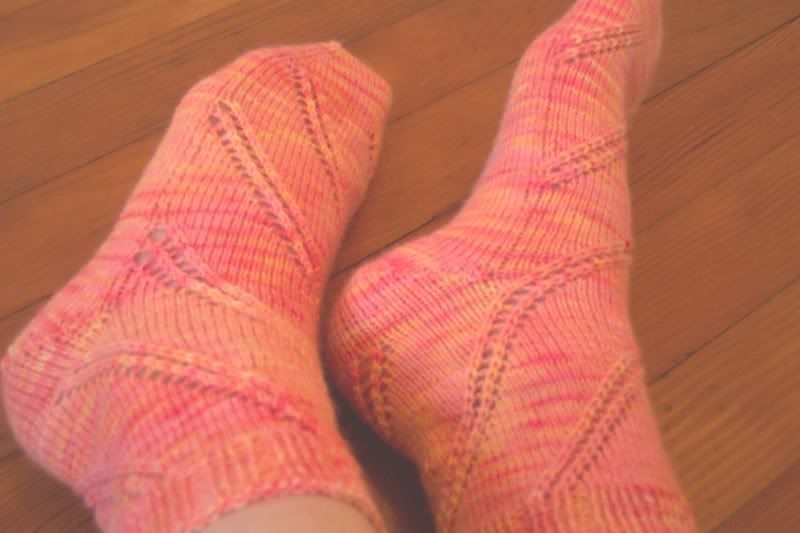 Pattern
: Mintyfresh's
Anastasia Socks
Yarn
: Hand-dyed Knit Picks Bare Merino sock yarn (color,
Umbrella Drink
)
Needles
: 2 mm (US 0) Addi Turbo 40 inch circulars
Modifications
: Minty wrote this toe-up sock pattern with a provisional cast-on; I did a Turkish cast-on instead. I made them shorter ankle socks, because (1) I am lazy and (2) I have several more pairs of socks to make.
Thanks, Minty, for such a great pattern! I highly recommend it to all of you for use with your handpainted and variegated yarns. There's a little something of interest going on, but the pattern does not obscure the yarn. Also, it's soothing to knit while not being boring. I started these on Labor Day weekend for my sister Lisa, and they sat in the knitting basket for far too long. I am very glad to have them done!
On Saturday, I felt the need to dye more yarn. It cheers me up. My mission was true blue, deep but not as dark, purplish or variegated as
the worsted I dyed back in September
. This, which I am calling Atlantic, is what I got with about 17 packets of kool-aid: 12 packets of berry blue, 4 of ice blue raspberry lemonade, 1 grape and about a third of a black cherry. The picture appears darker than the true color. It's not quite as deep as I wanted; next time I think I will use more grape or black cherry. My quest to achieve the perfect blue must continue.