Back to Work
This week has seen me working on a
new cardi
in decidedly unphotogenic black. Anyway, my camera batteries are dead, so no pictures of the beautiful yarn that arrived at my house this week either. (Sundara Yarn! Yarn Pirate! Yarntini!) Therefore, I give you Flickr favorites. Can't have a post without pictures.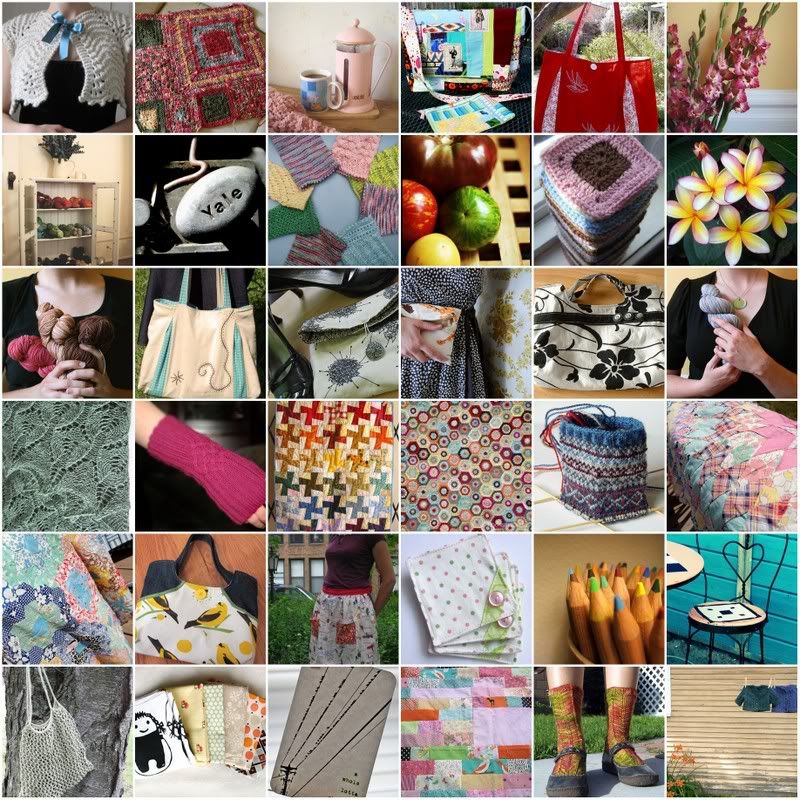 I am not stalking Ashley. I swear.


1. Cloud Bolero 2, 2. Babette Blanket, first three sections, 3. thinkpink, 4. New Messenger Bag set, 5. Pleated Bag, 6. Glads Are In Season, 7. Yes, I have completely lost my mind, and thank you very much for noticing., 8. Untitled, 9. pinwheel of single socks., 10. O-Tomatoes, 11. babette-fours, 12. plumeria, 13. And now it's a series. (4/365), 14. pleated handbag, 15. evening clutch, 16. afternoon clutch, 17. Purse #2, 18. They Will Pry This Yarn From My Cold Dead Hands, 19. icarus_close-up, 20. Fingerless mitts, 21. Doll Quilt Swap I: received, 22. 155, 23. Meida's Mittens, 24. aunt betty :: texas star, 25. aunt betty :: hexagon love, 26. BTRS - Charming Purse, 27. America Vintage Apron, 28. coasters, 29. Untitled, 30. her heart was twisted and cold, 31. Linen Elisa Bag, 32. New fabrics, 33. postcard 2/2, 34. WIP (virginia alice's quilt) closeup, 35. I love these socks! Jaywalkers!, 36. Twin February Sweaters

Fantine still has not made a public appearance, since the weather has been a bit too warm for her. Hopefully, she'll soon be able to come out of hiding. I can feel fall in the air.
In bigger news, the carefree (ha!) halcyon days of stay-at-home motherhood draw to a close. Tomorrow, I'm officially going back to work. In honor of the occasion, I invite you to click the link and hear that rousing paean to the Working Girl,
CAKE'S Short Skirt/Long Jacket
.
EDITED TO ADD
: Who says there isn't a benevolent God? I found a job, and a nanny, AND there is a
new Radiohead album coming out in nine freakin' days
. Life is good, people.
Labels: Flickr Fun, My Music Obsession