In Which I Reveal My True Nature as a Project Sl*t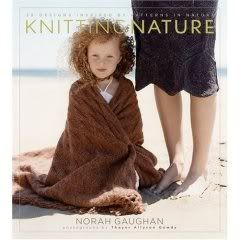 Lolly, it's all your fault
. She posted a little preview of this book, which I had heard and then forgotten about. After seeing a little glimpse,
I had to have it
. Yesterday, off to the bookstore I went. Hey, I'm there so J can play with the train set, right?
This book is gorgeous. I haven't read through it closely, only flipped through and drooled at the pages, exactly like a teenage boy with a girlie magazine. (For shame!) Just as some such periodicals are reputed to contain some serious writing/journalism, Ms. Gaughan has included some actual scientific content in this book -- she explains the different natural structures, such as fractals (!!) and phyllotaxis (!!), and how they inspired her designing. I really swear I will read that stuff. Really.
But, the patterns. Literally, turning the pages of the book results in involuntary gasping. The projects are just so beautiful. So beautiful, that upon seeing one of them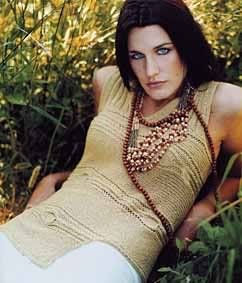 , I
absolutely had to
check my stash for appropriate yarn and start swatching. (Audrey Who?) The yarn I had in mind wouldn't work, so naturally, because I am a Bad Girl, I
had to
go to Knit Picks and find
something that would
. And because I am fortunate enough to live in the same state with the Knit Picks distribution center, I received my yarn today. That's right -- I ordered it yesterday afternoon and I cast on
today
. No chance for that project lust to cool.
Another note on the 80s nostalgia songs... The versions of the songs that I have: Save It For Later by the English Beat, Something About You by Level 42, Da Da Da by Trio, Blue Monday by New Order, and Bring on the Dancing Horses by Echo and the Bunnymen. One thing I learned from doing this -- there apparently was a period in the mid to late 1990s in which I was under a rock from a popular music perspective. (Hmm, what was I doing then? Oh yes,
law school
.) So, for example, the fact that someone had covered Blue Monday was news to me. Sorry,
Erin
, but no one will ever do Blue Monday like New Order. And who's this Harvey Danger? I feel old.