First Son ... First FO of 2007
Pattern
: The Seamless Hybrid by Elizabeth Zimmermann, from
Knitting Without Tears
Yarn
: Just a bit more than 2 skeins of Plymouth Encore Worsted, color #670
Needles
: Knit Picks Options circulars, size US8
Finished chest size
: 28 inches
I finished this sweater this weekend and S has worn it twice. He likes. Yay! I almost immediately cast on another one for his little brother, and I'm already on the second sleeve. It's really the perfect study project.
Many others have waxed poetic about the virtues of this pattern and EZ's sweaters in general, but allow me to add a little in the way of adulation. This pattern is GENIUS. In particular, the system of percentages is so brilliantly simple and elegant. And
it works
. I also love doing the body and the sleeves first ... no getting stuck on Sleeve Island. You get the dull parts over with first and then you get to finish up with a bang.
I did hems on the sleeves and at the bottom and a 1x1 rib at the neck. The hem facings (pictured
here
) are knit in a little bit of blue heather Wool-Ease I had lying about. For the bottom hem, I knit the cast on row together with the appropriate round farther up. The sleeve hems I whipstitched after finishing the whole sweater. I actually prefer sewing the hems; I think they look nicer. For J's sweater, I'm doing a shallow little 1x1 rib edging at sleeves and bottom.
Lisa
, you asked about the decreases ... I had a little trouble getting a good picture of them, but perhaps they are more visible here. Click for bigger.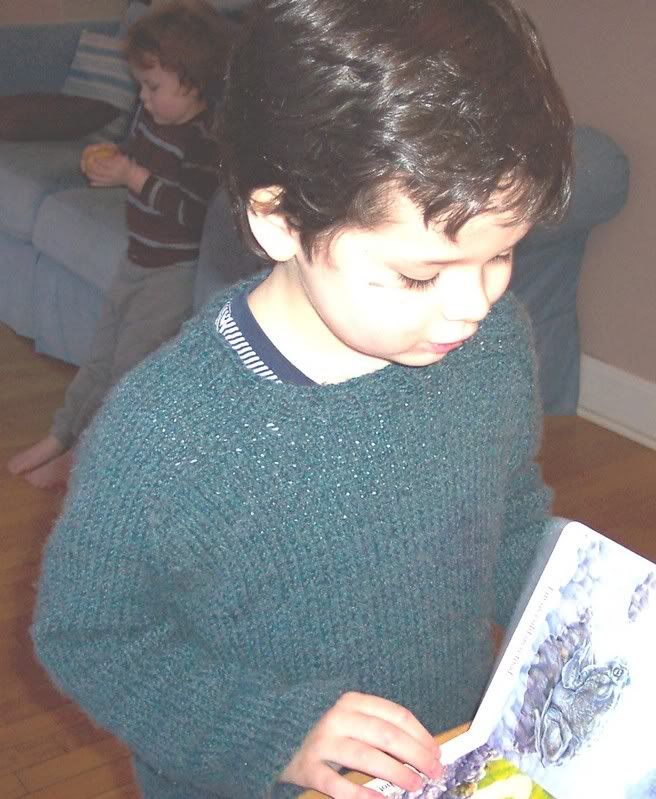 I had some trouble with the bind-off at the neck. My first two attempts were too tight, to say the least. (I made J try it on and it would NOT go over his head. He was shouting, "I don't want it! I'm stuck! I'm stuck!") Then, my dear friend
PCR
showed me the crochet bind-off. It's changed my life. By the way, she's finally blogging, so go over there and show her some love. Check out her beautiful Shetland Triangle!
Also, I'm proud to say that I
grafted
the underarms. Naturally, PCR had to chant the instructions at me while I did it, but it worked. A goal for 2007: Fear Kitchener No More.
Thanks everyone for the nice comments and encouragement, again. I am trying to keep up with things, but it's tough. I have found out that I am 99% certain to be able to take the exam in February. My background check is done, and I just have to be interviewed by a member of the Bar Association. Presumably, this is to ensure that I am not certifiably insane, a junkie, etc. Since I tend to clean up pretty well and can be presentable, and assuming that the interview can be scheduled in time (I don't see why it wouldn't), I think it'll be a go. Gulp. Gotta study.
ETA

: Received notice of interview today! It's on the 30th. Wish me luck!
Labels: I CAN Knit Sweaters, The Little Guys